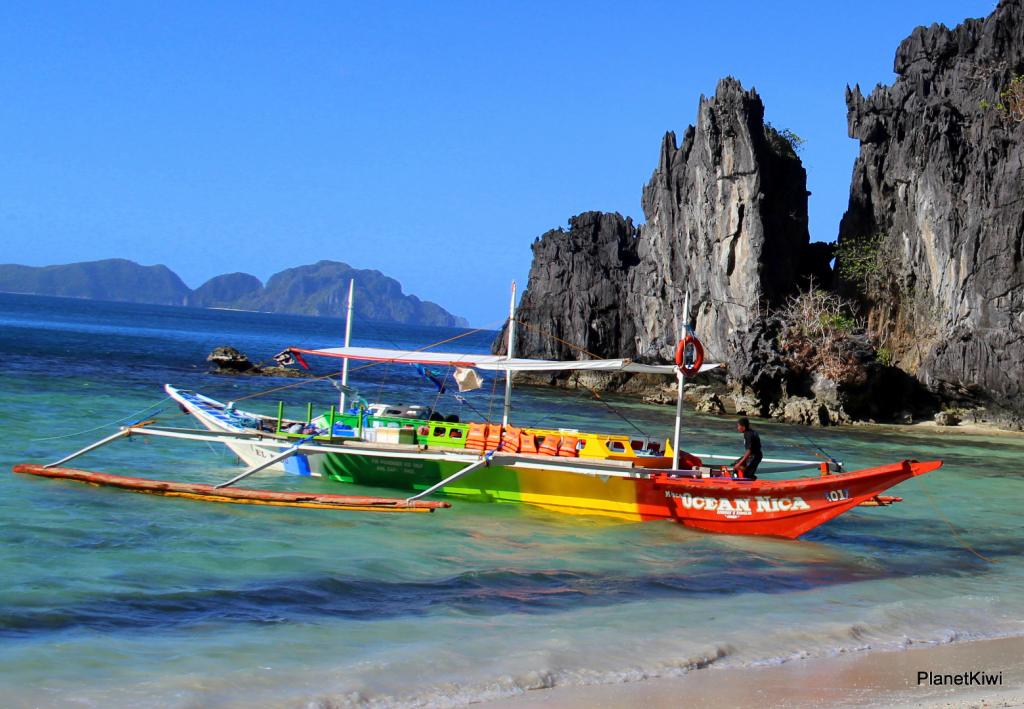 Hi! Today I want to tell you about the Philippines. This is a country of many, many islands. Each of them is different.
Cześć! Dziś opowiem Wam o Filipinach. To kraj wielu, wielu wysp, a każda z nich jest inna.
First we went to Palawan. Most people go to Palawan for snorkelling and scuba-diving because there are beautiful reefs there. And many small islands where you can stop. People go "island-hopping" which means that they take a boat for one day and go from one island to another and come back to the hotel for the night. We decided to do it in a different way. We rented a boat for 4 days and took a cruise from El Nido to Coron. It is a very, very long way.
Najpierw polecieliśmy na Palawan. Większość ludzi odwiedza Palawan ze względu na snorkeling i nurkowanie, bo są tam przepiękne rafy. I mnóstwo maleńkich wysepek, gdzie można się zatrzymać. Ludzie pływają na wycieczki zwane "island-hopping", co oznacza, że biorą łódkę na cały dzień i pływają z wyspy na wyspę, a na noc wracają do hotelu. My zdecydowaliśmy się na coś innego. Wynajęliśmy łódź na 4 dni i zrobiliśmy sobie rejs z El Nido do Coron. To bardzo, bardzo długa droga.
First we took a flight from Manila, the capital of the Philippines, to el Nido. We had a very small plane which takes tourists to the resorts in El Nido, because the airport in El Nido is too small for normal planes. The terminal in Manila for our airline was very funny. I have never seen anything like this. There were small tables for passengers, tea and coffee and even food. Very nice.
When we landed in El Nido, we saw how small the airport was. There was no real building, only a small wooden hut where we got some welcome drinks and waited for our luggage. There we met Nicolien, a lady who organised our cruise. The guys came with our baggage on the trolleys and evereyone picked up their stuff.  We took tricycles and went to El Nido town. I don't know how the drivers managed to put all our luggage on the tricycles, because they were really small, but somehow they made it.
Najpierw polecieliśmy z Manili, stolicy Filipin, do El Nido. Lecieliśmy malutkim samolotem, który zabiera turystów do resortów w El Nido, bo lotnisko w El Nido jest zbyt małe dla normalnych samolotów. Terminal tych linii lotniczych w Manili był bardzo śmieszny. Nigdy czegoś takiego nie widziałem. Małe stoliczki dla pasażerów, kawa, herbata, nawet jedzenie. To było bardzo miłe.
Kiedy wylądowaliśmy w El Nido zobaczyliśmy, że lotnisko jest rzeczywiście baaardzo malusieńkie. Nie było prawdziwego budynku, tylko mała drewniana chatka, gdzie dostaliśmy na powitanie coś do picia i czekaliśmy na bagaże. Tam poznaliśmy Nicolien, dziewczynę, która organizowała nam rejs. Kiedy ludzie z obsługi przyjechali z bagażami na wózkach, wszyscy zabrali swoje rzeczy i ruszyli w stronę tricykli. To takie śmieszne trójkołowe motorko-taksówki. Nie mam pojęcia jak ci kierowcy zdołali załadować nasze bagaże, bo te tricykle były naprawde niewielkich rozmiarów. Do każdego z nich weszły dwie osoby i cała tona naszych rzeczy. Ale jakoś dali radę. Tricyklami pojechaliśmy do miasteczka.
The boat waited for us there. We changes our clothes to the swimming suits (it was very funny because there was no place to change, so we hid behind a counter in a small shop 🙂 When we got to the beach I saw a beautiful, blue sea. It was amazing. And our boat was painted like a rainbow – in many colours. The crew took our suitcases and backpacks and carried it on their heads to the boat. We came in water and walked to the boat, too. The boats in the Phillipines are very funny, because they have long bamboo sticks on both sides. It makes them more stable on the waves. They look like this small insects with very long legs which "skate" on the water surface in the lakes and rivers ("pond skaters").
Tam czekała już na nas łódka. Przebraliśmy się w kostiumy kąpielowe, bo do łodzi trzeba było przejść przez kawałek morza. To było bardzo śmieszne, bo nie było gdzie się przebrać, więc schowaliśmy się za ladą w takim malutkim sklepiku przy samej ulicy 🙂 😉 Kiedy dotarliśmy na plażę zobaczyłem piękne, niebieskie morze. Było suuuper! A do tego nasza łódź była genialnie pomalowana w różne kolory – wyglądała jak tęcza. Załoga zabrała nasze walizki, plecaki i zaniosła je na głowach przez wodę do łódki. My też weszliśmy do wody aż po pas, żeby do niej dotrzeć. Łodzie na Filipinach są bardzo śmieszne, bo mają po obu stronach bardzo długie bambusowe drągi. Dzięki temu są bardziej stabilne na falach. Wyglądają jak nartniki – takie śmieszne owady, które mają strasznie długie nogi i ślizgają się po wodzie na stawach i rzeczkach.
On the boat we met our guide Kaloi, who took care of us for the whole cruise. He was a guide and a fantastic cook – the food he made was the best during our whole stay in the Phillipines. When we packed everything on the boat, we started sailing.
Oh, I have a good idea!  Mum, can I seat there on the front? Please… Because the boat is rocking! – I asked my mum
– Of course, you can – she answered
– Thanks! Oh, it's great here. Like on a rollercoaster. Superrrrrrrrr, uauauaaaaa, OMG. I love it!
Na łódce poznaliśmy naszego przewodnika Kaloi, który opiekował się nami przez cały rejs. Oprócz tego, że był przewodnikiem, to był też świetnym kucharzem. Jedzenie, które robił było najlepsze jakie jedliśmy w trakcie całej podróży na Filipinach! Kiedy już zapakowaliśmy wszystko na łódkę, ruszyliśmy w drogę.
O, mam pomysł! Mamo, mogę usiąść tam z przodu łódki? Proszę…! Bo tam tak fajnie buja! – błagałem.   
– Pewnie, że możesz. – odpowiedziała.
– Dzięki! Wow, ale tu jest super. Jak na rolercosterze. Super, jupiiii! Uwielbiam to.
I stayed in front for a couple of hours. It was really funny. But after some time I got sick. Too much rocking 🙁 I had to move to the back of the boat. Suddenly my Dad looked at my hands and said: O my God! Your arms are sunburnt!!! You know, I didn't feel it, because there was wind and the boat was rocking and it was fun. I have to be more careful!
I was getting hungry when Kaloi told us that we are staying in the first beach and we can snorkel there. Hurray! I love snorkelling and I am very curious what I will see here. My Mum is going on the left side and we (me and my Dad ) are going to the right side with my uncle Jack. Unlce Jack is calling us: come, come, quickly. Oh, my good! It's a cattlefish. It is so big and beautiful. It is all brown and spotted and it's as big as my leg. The corals are also very nice.
Na dziobie siedziałem parę godzin i było rewelacyjnie. Ale po jakimś czasie zrobiło mi się niedobrze. Za dużo tego bujania. 🙁 Musiałem przenieść się na tył łódki. Nagle, tata spojrzał na moje ramiona i powiedział: Boże, przecież Ty masz poparzone ręce!!! Nie czułem tego, bo był wiatr i łódka tak fajnie bujała… po prostu było ekstra. Trzeba jednak bardziej uważać na to słońce!
Trochę zgłodniałem, ale Kaloi uświadomił mi, że zatrzymujemy się właśnie na pierwszej plaży i tam idziemy snorkelować. Hurra! Uwielbiam snorkeling i jestem bardzo ciekaw, co zobaczymy. W sumie jedzenie nie jest ważne w takiej sytuacji  😉 Mama popłynęła w lewo, a my z tatą i wujkiem Jackiem w prawo.
– Chodźcie tutaj, szybko! O, Boże! To mątwa! – nagle zaczął krzyczeć.
Wow, ale ona była wielka –  jak moja noga. I do tego cała brązowa i w takie śmieszne plamki. Super! Pierwszy raz widzę mątwę. Są też ładne koralowce.
After the lunch on the beach we went back to the boat because we have a very long way to go. We will have one more stop on the way. It's a shipwreck! We will snorkel around it!!!!!! Wow! I have never snorkelled on a shipwreck before. Ok, so we jump into the water. It's great. And there are many clownfish (Do you remember Where is Nemo?) Clownfish are my favourite fish. I love them.
– Aaaaa! – My Mum started screaming.
– What's the matter, Mum?
– I don't know. Something stung me. But I don't really know what. I am going out!
I don't know what it was. Maybe a jellyfish? There was something on the shipwreck because my Dad got stung, too. I was lucky this time 🙂 But later I had my meeting with jellyfih, too. O, I hate them ;(
Okazało się, że na szczęście dostaliśmy też na plaży lunch, co bardzo mnie ucieszyło, bo po tym snorkelowaniu to zrobiłem się głodny jak wilk 🙂 Potem znowu wróciliśmy na łódkę i jakiś czas płynęliśmy, aż przyszedł czas na jeszcze jeden przystanek. To zatopiony wrak statku! Będziemy przy nim snorkelować!!! Wow! Nigdy jeszcze nie nurkowałem przy wraku. No to wskakujemy. Jest ekstra. I jest tu pełno błazenków. To moje ukochane rybki, uwielbiam je. Pamiętacie film "Gdzie jest Nemo?" 
– Aaaa! – nagle Mama zaczyna krzyczeć.
– Co ci się stało?
– Nie wiem, coś mnie poparzyło. Ale nie wiem, co. Wychodzę stąd! 
Nie wiem, co to było. Może meduza? Coś musiało być na tym wraku, bo później tatę też poparzyło. Ja tym razem miałem szczęście. Ale później też miałem spotkanie z meduzami. Nie znoszę ich! ;(
Now we are going to Papaya Beach. We will sleep there. The island is beautiful. Closer to El Nido there were some boats with tourists but here, we are completely alone. There was only a small group of people who were getting married. But now the are gone. We are alone on the whole beach. O, they left some candles. I have an idea:
– Dad, can I take this candles and make something like a bonfire of candles?
– Yes, I think you can. But, you know, it will be difficult, cause there is a strong wind.
But I wanted to do it. I did a small trench. I made a sand wall in front of the way, where there was wind. And I put a piece of wood on it. And at last I fired the candles.
– It's working!!! So we have a small bonfire now 🙂 🙂 Oh, no, the wind destroyed our bonfire 🙁 Never mind! I had fun anyway.
The crew put up our tents and Kaloi made a great dinner for us. Fried fish with garlic and ginger. Yummmy! And rice with soy sauce. After dinner we went to bed. It's so great to sleep in a tent on the beach. The night is so beautiful, and there is full moon, so it's bright like it was still day. I love the Phillipines!!!
Teraz płyniemy na Papaya Beach. Tam będziemy spać. Wyspa jest piękna. Bliżej El Nido było trochę łódek z turystami, a tu jesteśmy zupełnie sami. Przez chwilę była tu tylko mała grupka ludzi – ktoś brał ślub. Ale już odpłynęli. Jesteśmy całkiem sami na całej plaży. O, zostawili świeczki. Mam pomysł!
– Tato, mogę zabrać te świeczki i zrobić świeczkowe ognisko?
– Tak, możesz. Ale wiesz, nie będzie łatwo, bo jest silny wiatr.
Ale ja bardzo chciałem to zrobić. Wykopałem mały rowek od tej strony, gdzie wiał wiatr. Na wierzchu położyłem kawałek drewna. I zapaliłem świeczki.
– Hurra, to działa! Więc mamy małe ognisko 🙂 🙂 O, nie, wiatr mi wszystko zdmuchnął 🙁 Nieważne, i tak miałem zabawę.
Załoga rozstawiła nasze namioty, a Kaloi przygotował super kolację. Smażona ryba z czosnkiem i imbirem. Pychota! I do tego ryż z sosem sojowym. A po kolacji poszliśmy spać. Ekstra jest spać w namiocie na plaży. A noc była niesamowita. Na dodatek była pełnia księżyca, więc było tak jasno, jak w dzień. Uwielbiam Filipiny!!!  
Next day we packed our stuff and went on a boat to see more beautiful spots. On the way we were passing many small islands. Some of them completely uninhabited, rocky and very tall. The others had beautidul beaches, sometimes private. If you have a lot o money you can rent a whole island for your holidays 😉 But I prefer our boat. The coral reef was everywhere. You could see it from the boat, and the fish too. The water is so clean that you can see everething down to many, many meters. And it is so blue! I feel like in a fairy-tale. And I am wet most of the time 🙂 I love it 🙂 At the end of the day we came to the village for the night. It was great! But I will write about it in my next post.
Kolejnego dnia raniutko zebraliśmy nasze rzeczy i popłynęliśmy oglądać kolejne cuda. Po drodze mijaliśmy setki maleńkich wysepek. Niektóre były całkowicie bezludne, skaliste i bardzo wysokie. Inne miały przepiękne maleńkie plaże, często prywatne i bardzo zadbane. Tam nawet możesz sobie wynająć całą wyspę z plażą i łodzią, jeżeli tylko masz ochotę i pieniądze. Ale to jest mega drogie, także my pozostaliśmy przy naszych marzeniach, jak to fajnie byłoby mieć taką wysepkę 😉  Wszędzie dookoła widać było rafę koralową. Tak! Dosłownie było widać – wystarczyło wychylić się i spojrzeć z łodzi, a dało się zauważyć nie tylko rafę, ale nawet ryby. Woda jest tam tak czysta, że widzisz wszystko na kilkadziesiąt metrów w głąb. Do tego ma kolor błękitny albo turkusowy. Cały czas czułem się jakbym podróżował przez krainę baśni. Oczywiście tego dnia znowu stawaliśmy w wielu miejscach, gdzie można było skorkelować. Praktycznie przez cały ten rejs ciągle byłem mokry, co bardzo mi się podobało, bo uwielbiam wodę!  Na koniec dnia dopłynęliśmy do wioski, w której był nasz kolejny nocleg. Tam było cudownie, ale o tym już w następnym poście 🙂
And finally, I give you a map of our cruise made by our guide Kaloi. If you wanted to go our way, you have it ready 😉 Thanks, Kaloi!
Na koniec jeszcze tylko załączam dokładny plan rejsu, narysowany przez naszego przewodnika. Jeżeli chcielibyście pojechać naszą trasą, to macie ją gotową 🙂 Dzięki, Kaloi!!!
Some photos in this post are by my uncle Jack – thank you!
Niektóre zdjęcia do tego posta robił mój wujek Jacek – dzięki!