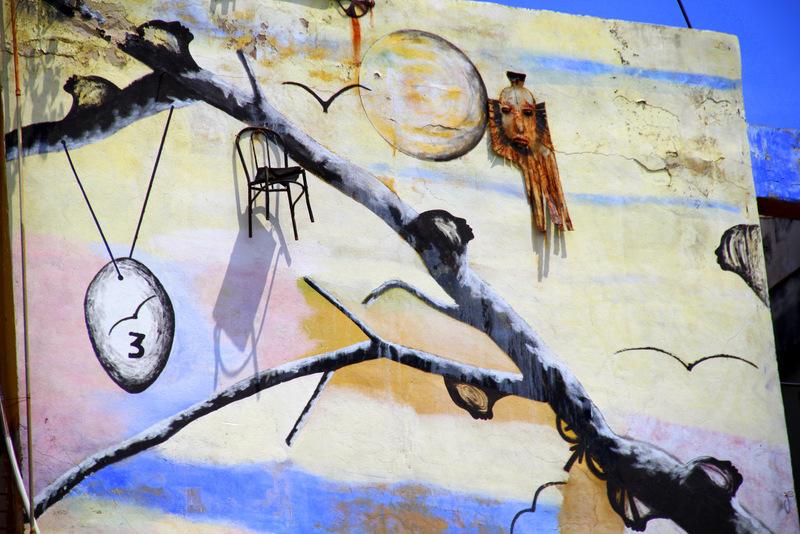 We went to Cuba last year. I wrote about it in my posts that one of the best places was a street Callejon de Hamel in Havana Centro, where I saw beautiful pieces of art. No, I didn't go to museum, it was on a street! That's why it's called street art.
W zeszłym roku byłem na Kubie. Jak już pisałem we wcześniejszych postach jednym z miejsc, które odwiedziłem była ulica Callejon de Hamel w Havana Centro,  gdzie widziałem piękne dzieła sztuki. Nie, nie byłem w muzeum, a na ulicy! Dlatego właśnie nazywa się to street art, czyli sztuka ulicy.
The Cuban artists used the old buildings to make real and beautiful art. And do you know what is the best? It was one man who had this idea and many others helped him.
They did murals (big paintings on the walls of the buildings). It was amazing that it's not like in my city Lodz in Poland, that you can see murals on some walls…the whole street is in them!
Kubańscy artyści fajnie wykorzystali tam zniszczone budynki robiąc z nich prawdziwe arcydzieła. A wiecie co jest najdziwniejsze? To wszystko wymyślił jeden człowiek, a cała masa ludzi mu w tym pomogła.
Zrobili między innymi super murale, czyli takie malowidła na ścianach budynków. Niesamowite było to, że to nie było tak jak w moim mieście w Polsce, czyli w Łodzi. U nas co jakiś czas na ścianach można zobaczyć mural…. tam cała ulica była z takimi rzeczami!
They even made a sculpture using a bath tube. They painted The Little Prince and put some quotes from the book inside. I really liked it 🙂
Wykorzystali nawet stare wanny, z których zrobili jakby rzeźby i był na nich namalowany Mały Książę oraz wypisane cytaty z książki. Bardzo mi się to podobało 🙂
There were many others sculptures and graffiti – all using colorful paint and made of different things like chairs, old cash machines, telephones and so on. They even hanged an old clock on one of the walls, it looks super! I think that this part of Havana is more beautiful with street art 🙂 
Oprócz tego było dużo innych rzeźb, graffiti – a wszystko z użyciem kolorowych farb i zwykłych przedmiotów jak krzesła, stara kasa, stare telefony itp. Powiesili nawet stary zegar na ścianie budynku, wyglądał super! Myślę, że ta część Hawany jest jeszcze piękniejsza dzięki street artowi 🙂
We even took a picture with a man who made it all happen – look at the photo, he is also a good painter. I met a lot of interesting people who were painting there and they tried to tell us about thei work. But they spoke Spanish and we didn't understand a lot. Luckily I'm learning Spanish so I will understand them soon 😉
Udało nam się nawet zrobić zdjęcie z Panem, który to wszystko wymyślił i załatwił tak, żeby artyści mogli tam tworzyć. Sam też pięknie maluje, zobaczcie na zdjęciach. Spotkałem tam też wielu fajnych ludzi, którzy tam malują i starali się nam opowiedzieć coś o swoich dziełach, ale niestety nie wszystko rozumieliśmy. Na szczęście uczę się hiszpańskiego i pewnie niedługo będę mógł już zrozumieć co mówią ;).
They said that they have workshops for kids on Saturdays. It's for free because the kids from this area can't pay. I think it is a great idea – I really liked it 🙂 !!!
Opowiadali nam również, że robią tam w soboty zajęcia artystyczne dla dzieci z tej dzielnicy. Zajęcia są za darmo,  bo to jest naprawdę biedna dzielnica. Ja uważam, że to super pomysł i bardzo mi się to wszystko podobało 🙂 !!!